House Republicans – continuing to hammer the Obama administration over the Solyndra solar failure – today expressed concern that the U.S. Department of Energy (DOE) will make "sloppy, poor investments in the final rush to get the cash out the door" as the deadline nears on a key loan-guarantee program for renewable energy.
Rep. Cliff Stearns (R-Fla.), chairman of the House Energy and Commerce Oversight and Investigations Subcommittee, said the administration had finalized $8 billion out of $18 billion in loan guarantees made possible under the Section 1705 program. Stearns noted that the DOE had "conditionally committed to an additional 16 projects totaling over $10 billion in guaranteed loans," all of which would need to be finalized by the end of this month, when fiscal year 2011 draws to a close.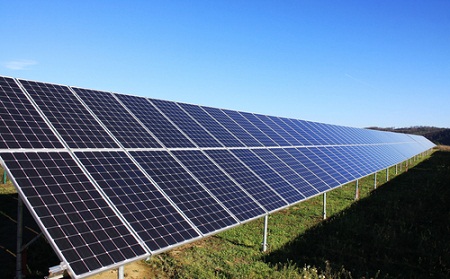 Under the original 2009 stimulus, Congress authorized $6 billion for renewable-energy loan guarantees. That money was earmarked for the credit subsidy cost of the loans – an approximately 10 percent fee charged to developers to help defray costs of loan failures – and translated to around $60 billion in possible loan guarantees. But that authorization was gradually pared back, and in the FY 2011 budget battle this spring the administration held onto just enough of an appropriation – $2.5 billion – to allow about a third of the original volume of loans.
Stearns said that the Solyndra failure, which is being investigated by the House, was especially telling because "the first loan guarantee should be the strongest, most viable candidate for support," but Richard Caperton, a senior analyst at the Center for American Progress, disputed that notion in a statement to EarthTechling. "The program is in much better shape now than it was two years ago," he said. "It is better staffed and its processes are better, so there's every reason to think it can do a better job now in analyzing loans than it did when the program had just begun."
Caperton also argued the failure of the Solyndra loan, which he said represented but 3 percent of the guarantees made by the DOE, was hardly an indictment of the entire loan program. "That was a specific company, engaged in a specific technology, with a specific manufacturing process," he said. "There's no reason to believe its bankruptcy means these are all risky loans. In fact, I see no evidence that the DOE program is faring any worse than other government loan-guarantee programs, of which there are many."
This latest broadside from the Republicans came just hours before the president was to address Congress and the nation on jobs – and the Republicans seized the opportunity to try to preempt a push for more cleantech investment. "As he prepares to address the nation Thursday night, we all hope President Obama  has learned from the Solyndra debacle and that we won't see a repeat of the same failed approach," Stearns said.