The nation's first combined residential hall and recreational center on a college campus has been awarded a Leadership in Energy and Environmental Design (LEED) certification. The U.S. Green Building Council has awarded North Central College in Naperville, Illinois with a the silver LEED certification for its Res/Rec building.
Opening in 2009, the 201,439-square-foot building conserves land on North Central's 59-acre campus in Naperville's Historic District by combining two large buildings in one. The four-story, 265-bed dormitory is wrapped around a recreation center that includes a 62,000-square-foot field house. It also features one of the largest geothermal installations in the Midwest, with 60 650-foot deep geothermal wells.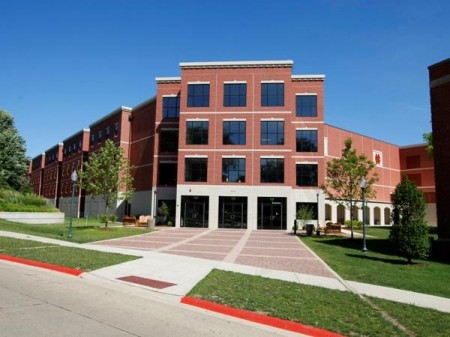 North Central College's Res/Rec Center achieved LEED certification for energy use, lighting, water and material use as well as incorporating a variety of other sustainable strategies. Features of the building include: radiant heat, energy efficient windows, domestic hot water waste recovery system, geothermal heating and cooling and pre cast concrete construction.
The college has made a point of phasing in a variety of sustainable living techniques over the years including,  the elimination of trays in the dining hall, the creation of a community garden, implementation of the Cardinal Red Bike Program, which makes bicycles available to students on a per-term basis for free and participation in the Zipcar program, allowing students, faculty and staff to reserve a car online or by mobile phone.