Built to serve the American Wind Belt, Siemens' wind turbine nacelle assembly plant in Hutchinson, Kansas, clearly serves a green purpose, but as an added bonus, it was built green as well. In recognition of the plant's energy efficiency and other green features, it was recently awarded LEED Gold status from the U.S Green Building Council.
We first reported on this 300,000-square-foot facility just as it was opening last December, and then noted, a month later, that Siemens had received an order for 253 2.3-megawatt wind power turbines, providing the new plant with plenty of work. (The nacelle, in case you were wondering, is the structure at the top of the turbine tower that houses the components necessary to convert the rotation of the blades into electricity.)  This plant is believed to be the first new construction or industrial site in the state of Kansas to secure LEED Gold status.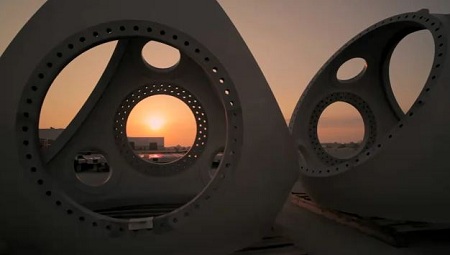 The plant's green and sustainable features include a large amount of insulation (to minimize heat loss in the winter and AC loss in the summer); no-CFC or -HCFC (Hydro chlorofluorocarbons) AC systems; intelligent water management (48.7 percent better than baselines established by the Energy Policy Act); daylighting via skylights (covering 75 percent of all regular occupied areas); a Sage Glass system that controls solar heat gain, blocks glare and increases day lighting potential; and use of low-emitting materials in sealants, adhesives, paints, carpet, wood and finishes throughout.
During construction,  50 percent of construction wastes were diverted from the landfill, and recycled and regional materials were used.