Students of all ages now have a new place in downtown Davenport, Iowa in which to learn about green energy and technology. Eastern Iowa Community College District has opened the Advanced Technology Environmental and Energy Center in downtown.
According to a Quad City Times article, the center includes office space, two classrooms and a 5,400 square foot interactive learning lab. The lab is meant for "students" of all ages and has displays for kindergartners up to high schools, along with information for adults. The center focuses on topics like biofuels, electricity, renewable energy sources like wind power and practical how-tos like how to implement energy saving techniques in your home.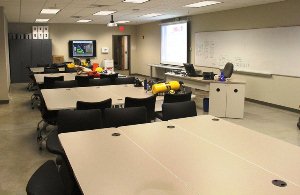 Specific hands-on displays include these nifty titles: Energy is Everywhere; Living With Energy; Sun, Earth, Wind and Water – The Renewable Energies; Bio Energy; Green Technologies; Energy Jobs; and Energy Careers. A mini-theater is also located on site for featured learning presentations. The center had  been located at Scott Community College in Bettendorf for more than a decade before the relocation.
The facility, located in the downtown's Mississippi Plaza Building, was funded by more than $1 million in grants from the U.S. Department of Energy and the  Iowa Office of Energy Independence, as well as a $50,000 grant from Scott County Regional Authority. The new location makes it easily accessible for businesses to come in and share about the green technologies.