For years, the Metropolitan Transit Authority of Harris County, Texas has been adding diesel electric hybrid buses to its fleet to increase fuel efficiency and decrease costs. But just how much they've saved by doing so hasn't exactly been clear. So, the transit authority has asked the University of Houston to help them figure it out.
Soon, the university's Texas Diesel Testing & Research Center will begin testing hybrid and regular Metro buses for fuel efficiency. The UH center is a comprehensive research facility used to develop and test advanced powertrain and emissions after-treatment technologies for all levels of government. The facility is run by researchers with backgrounds in chemical, biomolecular and mechanical engineering.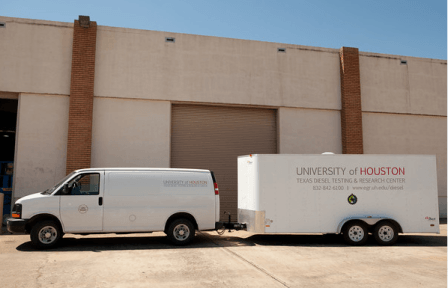 A diesel-electric hybrid bus is distinguishable by a large, heavy battery attached on top of the vehicle. There are different types of hybrid buses and the newer models come equipped with technology designed to reduce nitrogen oxide (NOx) emissions.
As part of the project, researchers will test both the hybrid and regular buses as well as various hybrid models to see which is more fuel efficient.  A total of eight Metro buses will be tested during the two-year project. The first tests are scheduled to begin within the first two weeks of November.