With all the damage and destruction wrought by Hurricane Irene recently, one has to wonder from the green technology perspective how all of those clean energy installations in the storm's wake fared. One marine energy company at least is reporting its offshore wave energy device survived the hurricane quite nicely, thank you very much.
Ocean Power Technologies (OPT) noted yesterday its PowerBuoy recently deployed off the coast of New Jersey, which we covered, rode out Hurricane Irene even as the buoy sat directly in the path of the massive storm and its killer wave surges. OPT said the PowerBuoy, which was put out to sea in relation to the US Navy's Littoral Expeditionary Autonomous PowerBuoy (LEAP) program, emerged from the two day storm with all systems still up and running.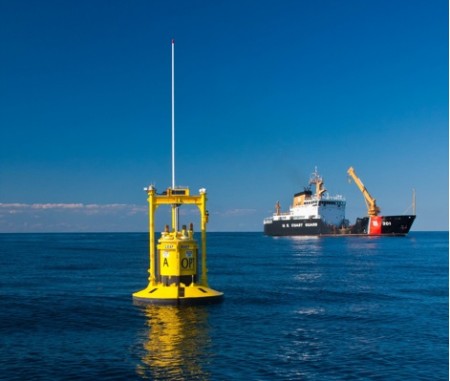 The OPT buoy withstood wave heights of up to 15 meters (nearly 50 feet), while keeping nearly constant communication with onshore monitors who observed the device's status and performance. It continued to supply consistent power to its communications and radar payload, according to OPT, and dissipated  the high amounts of surplus energy it produced.
This is said as well not to be the first severe wave issue an OPT wave energy buoy has survived – a utility PowerBuoy at the Marine Corps Base in Hawaii during the tsunami-driven waves caused by the earthquake in Japan earlier in 2011 is said to have fared well also.
As for other forms of clean energy in Irene's path, it was noted by at least one news agency out of Canada that wind turbines in Nova Scotia withstood the storm's diminished might very well.