Researchers at California-based Sandia National Laboratory have designed and built two truck-based mobile research facilities to measure and identify the origin of greenhouse gasses.
The mobile system consists of two moving van-sized trucks, each equipped with instrumentation and equipment. Included are instruments that measure greenhouse gases, such as carbon dioxide (CO2) and methane (CH4), and species co-emitted with greenhouse gases, such as sulfur dioxide (SO2), nitrogen oxide (NOx), carbon monoxide (CO), ozone (O3), and other traditional pollutants.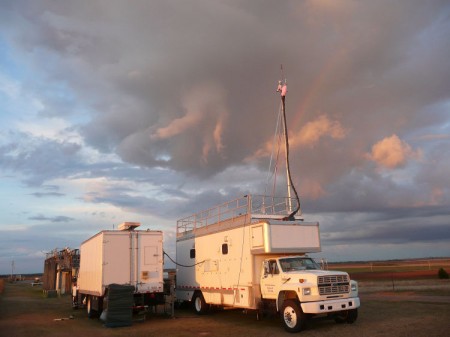 Each  truck supports an antennae-like mast that draws in air and delivers it to the trucks various instruments where the gasses are measure and analyzed. The instruments include a mass spectrometer that sorts out hydrocarbons and helps to distinguish between emission sources, which can range from traffic to pine trees. Another piece of equipment captures samples in flasks for analysis measuring the radiocarbon (14C) fractionation of CO2 (14C is a radioactive isotope of carbon). Because 14C is severely depleted in fossil fuels, it is a powerful indicator of man-made CO2 sources.
The truck has so far had one deployment to the Atmospheric Radiation Measurement (ARM) facility in Oklahoma. The Oklahoma site was selected because of its solid history as a climate research site, and ARM instruments were used to validate some of the measurements from the mobile lab.