This week's Green Tech Regional Report brings you news from around the country regarding renewable energy. We'll be taking a look at some solar successes, from using solar power to help store wine to a solar infill in an urban parking lot, and we'll take a look at the falling costs and rising popularity of solar installation. As usual, wind energy can't avoid scandal and controversy as residents debate turbine construction and wildlife agencies debate the threat turbines pose to birds.
The Manhattan Wine Company announced in late August that it had installed solar arrays on its Clifton, New Jersey facility, to power refrigerators, lights, and humidification systems. Wine storage can use up a lot of energy, and the solar panels, which went into operation last month, are expected to cut down the facility's consumption by a full 25%. In addition to using solar energy, the company also uses energy efficient appliances and recycles and reuses its packaging material.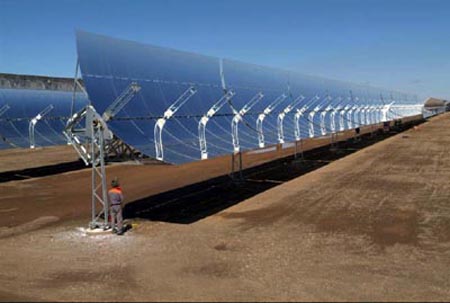 Mayor Antonio Villaraigosa and the LA Department of Water and Power celebrated the completion of a large-scale solar project in central Los Angeles. 1,185 photovoltaic panels were installed over the parking lot of the Walter J Towers office building, and help cut down energy consumption by 30%. Integrating the older infrastructure of the building and area with the solar infill project was a challenge, but the panels were installed successfully.
Also in California, the 1,000 megawatt Blythe solar farm, which was begun on June 17, was put on a lengthy hold merely two months later. The reason for this was a decision by Solar Trust of America to change the project's technology from solar troughs to photovoltaics, which many attribute to the falling price of PV panels. Unfortunately, this delay also means a delay of 1,000 new jobs and of the $460 million economic boost in the local economy.
Northern Nevada Business Weekly reports on the falling prices of solar power, claiming that solar energy is at about $4 per watt today, and is expected to keep falling over the course of the next year in the region. This, coupled with tax credits and rebates, is making them increasingly popular in local homes and businesses–597 of them, to be exact, since NV Energy's SolarGenerations program started in 2004. As of now, PV panels are still the most expensive part of solar arrays, and most are still manufactured overseas.
An article in the Nashua Telegraph complains that though promised, solar panels have yet to be installed on the White House. In October of 2010, Energy Secretary Steven Chu announced that the panels would be installed this summer, but so far no progress has been made on the project.
Salem, Massachusetts, sees controversy as a letter to city officials decries the planned construction of a 380-foot, $4.2 million wind turbine in a public park. Opponents of the project say that the city did not correctly consult the public on the project, or inform them of the logistics involved. Proponents of the project, of course, say that this is a false allegation.
In California's Tehachapi Mountains, six golden eagles were found dead. The cause of death, say wildlife biologists, was from being clipped by the rotating blades of wind turbines at the Pine Tree Wind Farm. This latest occurrence represents a long-standing dispute over wind farms and turbines: the US Fish and Wildlife Service estimates that wind turbines kill half a million birds a year, but wind companies and even other wildlife agencies like the American Bird Conservancy argue that the number is much lower, and that bird deaths by flying into glass buildings is far higher than death by turbine. The Washington Post examines the issue.
A town meeting was held on August 29 to vote on construction of the proposed Allegany Wind Farm in Cattaraugus, New York. The wind farm, which would be built by New York City-based EverPower, would feature 29 500-foot turbines, but the Allegany Planning Board must vote to rezone if the project is to continue.
Financing for the 150 megawatt Spring Valley Wind Farm near Ely, Nevada, has been completed, and construction has begun. The wind farm's developers, Pattern Energy Group, have also signed a 20-year power agreement with NV Energy, making it Pattern's fourth operational wind farm on the continent. Spring Valley, which will bring in a total of about 240 permanent and construction jobs, is expected to be completed within a year, and is capable of powering 45,o0o homes in the region.