From the Frankfurt Motor Show Daimler subsidiary Smart has announced that its flagship electric vehicle, the Fortwo, is preparing for the third-generation upgrade as well as worldwide distribution.
The Fortwo, which recently acted as a test vehicle for a habit study in the United Kingdom, is equipped with an improved 55 kilowatt electric motor, giving it a top speed of approximately 75 miles per hour, and a 17.6 kilowatt-hour lithium-ion battery, giving the car a range of around 60 miles.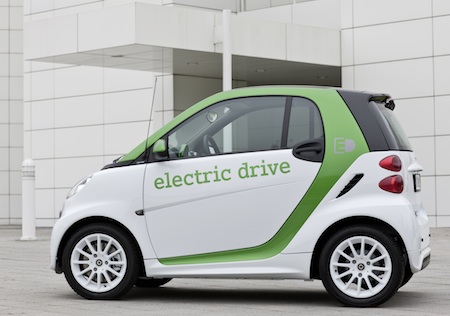 According to the company, at least 30 markets around the globe will begin to carry the new Fortwo electric vehicle, which features a 22 kilowatt on-board charge option for those with access to charging stations, the ability to refuel the battery system in just one hour, and an integrated iPhone app to monitor the car's progress.
Smart says the electric cars will start to rollout from the company's production facility in Hambach, France in the spring of 2012, and although the automobile manufacturer says at least 10,000 units are planned, the exact figure has not been released to the public. Pre-order reservations for the new Fortwo are expected to start later this year.
EarthTechling is launching a weekly green deals service in October called Green Earthling Deals.  Sign up for the weekly email by Monday, September 19th and you'll be entered to win a custom iPad or iPhone case from the extraordinary designers at Grove.   More details can be found on EarthTechling's Contests page.