Further details of an all-electric concept car we recently covered by luxury vehicle manufacturer Audi have been unveiled at this year's international automobile convention in Germany. Dubbed the Spyder, the new electric vehicle was unveiled at the Frankfurt Motor Show 2011.
So far, Audi has yet to release more specific details about the concept, but as we noted before, the Spyder is equipped with two electric motors and a lithium-ion battery system. As seen in the image below, the wheels are free-standing and feature LED strips to outline the frame.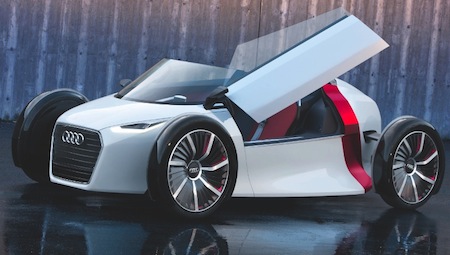 The doors on the Spyder slide open, and the seats are positions in a staggered, almost tandem position, much like the Opel concept electric vehicle also appearing at the motor show.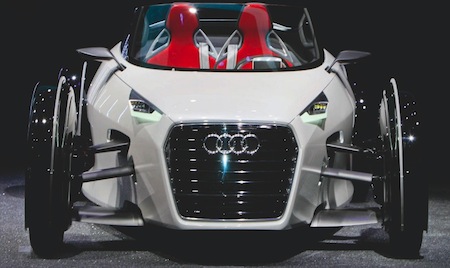 Audi says the Spyder isn't based on any of its previous vehicles, which is a refreshing change of a pace since many concepts we've seen from the show in Germany have been variations of the same powertrain technology, as was the case with Volkswagen, Fisker, Smart, and Honda, although Mercedes Benz did reveal a vehicle based on 2025 technology that was unique.
It's unclear if the if the Audi Spyder electric car will ever be produced for public sale, given that the non-standard design and extremely low set cabin make the vehicle a potentially impractical mode of transportation. Still, simply because the Spyder has unusual design doesn't mean the car can't change notions of what cars should resemble in a more eco-conscious future.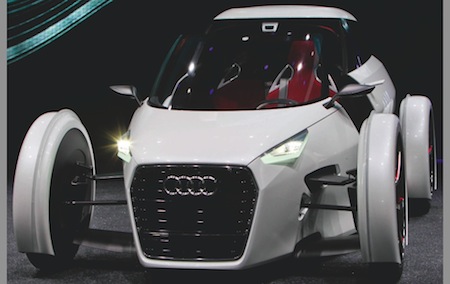 To see more about the Spyder, visit Audi's photo collection of the car as well as the original press release with additional information.
EarthTechling is launching a weekly green deals service in October called Green Earthling Deals. Sign up for the weekly email by Monday, September 19th and you'll be entered to win a custom iPad or iPhone case from the extraordinary designers at Grove. More details can be found on EarthTechling's Contests page.