Iowa could be the next up-and-coming state research center for renewable energy technologies. The National Science Foundation (NSF) has awarded $20 million to Iowa's public universities to help build the state's research capacity in renewable energy and energy efficiency over the next five years. The Iowa Power Fund, a state program supporting energy innovation and independence, will be match the grant with $2 million in research equipment.
The comprehensive research program will be conducted at Iowa State University, the University of Iowa and the University of Northern Iowa, and will concentrate on four distinct research areas: bioenergy, wind power, energy utilization and energy policy. The primary goals will include developing sustainable biomass products, improving wind turbine reliability, understanding how human behavior influences energy consumption (energy utilization) and fostering collaboration between engineers and economists on energy policy issues.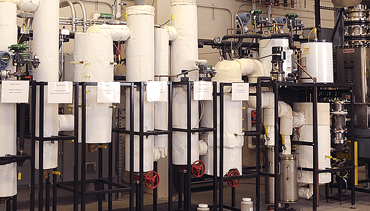 Specifically, the grant supports the hiring of five faculty members to improve energy research, upgrading Iowa's information technology resources for energy studies, engaging Iowans in energy issues and supporting the transfer of campus energy technologies to private companies for commercialization. The project will also create a statewide Future Leaders in Advancing Renewable Energy (FLARE) Institute to help the state develop a workforce to meet the needs of Iowa's emerging green economy. FLARE will especially encourage women, minorities and first-generation college students to pursue careers in the science, technology, engineering and math fields.
The $20 million grant is part of the NSF's Experimental Program to Stimulate Competitive Research. This program targets funding to states and regions that have lagged in research and development funding. The grants are designed to help these states build research capacity, making them nationally competitive for future grants from other funders.