Just days after backing the nation's first commercial-scale cellulosic ethanol plant, the U.S. Department of Energy (DOE) is throwing its support behind what will apparently be the second such plant: The DOE said today it closed a $132.4 million loan guarantee to Abengoa Bioenergy to build plant No. 2 – where corn cobs, leaves and husks will be processed into biofuel – in Hugoton, Kan., about 90 miles southwest of Dodge City.
The financing for the project joins a host of loan guarantees closing before the DOE's Section 1705 program for renewable energy development wraps up today. The program has been under fire in the wake of the Solyndra bankruptcy, but the Obama administration says it has been helping advance clean energy while also stoking job growth. The DOE said the Kansas project will result in 300 construction jobs and 65 permanent jobs.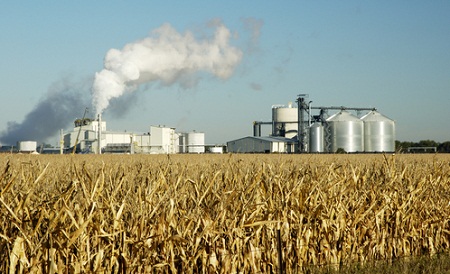 The DOE announcement included the usual collection of infobits on the plant: it will turn out  "23 million gallons of ethanol per year using an innovative enzymatic hydrolysis process"; it will "displace over 15.5 million gallons of gasoline, which will avoid over 139,000 tons of carbon dioxide emissions"; and 90 percent of the project's sourced components are expected to be produced in the U.S.
But the department also added this note, which as far as we know had not been on previous closing announcements and that appears to be in response to the attacks made on the program in recent weeks: "Loan applications reviewed by the Department have undergone many months of due diligence and often receive bipartisan support.  DOE evaluates the technical aspects of an application to make sure the technology is feasible, work to ensure that projects can be built to scale, do extensive market analysis to ensure there is a place in the market for the product, and evaluate the finances of the project to ensure it is commercially viable. We are confident that supporting these projects will help American companies compete in the global clean energy market."