While cleantech researchers the world over race to drive innovation in areas like biofuels and concentrated solar power, Pepperidge Farms is working hard to drive innovation in baked snacks. Now the company (owned by Campbell's Soup) will have a new facility from which to pursue this critical research, which is being designed to LEED standards.
The company recently broke ground on this $30 million, 34,000-square-foot "innovation center," located at Pepperidge Farms' Norwalk, Conn., headquarters. It will house a pilot plant with product development and testing lines, culinary kitchens, scientific labs and meeting rooms, all designed to assist Pepperidge Farms employees in conducting the initial research on and testing of new product concepts.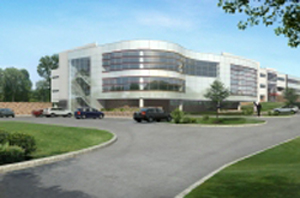 The building will focus on earning its LEED stripes through energy efficiency, water conservation and daylight harvesting techniques, as well as recycled building materials. It's the second green building in a series for Campbell Soup, which recently took LEED Silver certification for its Employee Center in Camden, N.J. The Dennis Group of Springfield, Mass., and Perkins Eastman of Stamford, Conn., were the architects behind this latest project.
Lest you shake your head in wonder at this sizable investment in snacking innovation, consider this: In the fourth quarter of fiscal 2011, Campbell reported that its Global Baking and Snacking segment sales increased by 17 percent.