Everyone knows that U.S. solar manufacturers are getting killed by overseas competitors, who can produce photovoltaics (PV) much more cheaply. So how can a domestic company survive? Menlo Park, Calif.-based Armageddon Energy is hoping to do so by emphasizing value over price with an easy-to-install modular solar-power system it calls SolarClover.
We picked up on this story from the Business Journal in San Jose, where Armegeddon just fired up a little 1-kilowatt (kW) demo  system on the roof at City Hall. But EarthTechling readers might well remember Armegeddon as one of five companies – out of 3,600 who entered – to win an honorable mention award in the GE Ecomagination Challenge last year.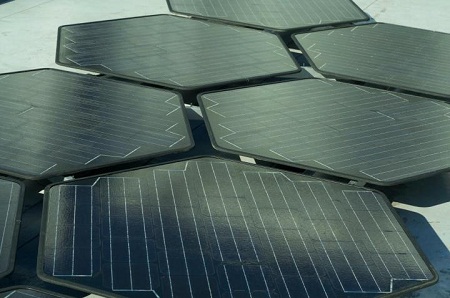 The Armageddon system consists of solar panels that are coated in a polymer film instead of glass, making them much lighter than typical panels. They go on easy-to-assemble racks, and the three hexagon-shaped panels form an array – looking a bit like a clover when put together. Three arrays combine to produce a kilowatt of power.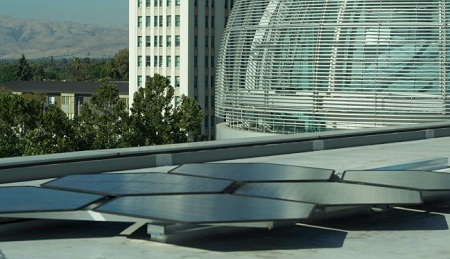 And here's the kicker: Armageddon says the system can be installed by your garden variety trade professional with no specialized tools or training. It's "as simple as getting a new dishwasher," the company says. In part that's because each clover has its own DC-to-AC converter, making it easy to wire the system – and any additions a homeowner might want to make to boost power output – right into a home's circuit board.