Shouldn't wave power be the Navy's bailiwick? No matter; in the ga-ga for green U.S. military, there don't seem to be hard jurisdictional lines. So it came to pass that Air Force Academy researchers recently tested – successfully, too, it appears – a small-scale version of a device that will turn deep ocean waves into electrical power.
We spotted this story in the Gazette newspaper in Colorado Springs, home to the Air Force Academy. That's where the  "the world's first free-floating, fully submerged wave energy converter that generates electrical power from deep ocean waves" was hatched and developed. Once built, the Air Force team, led by aerospace and mechanical engineering researcher Stefan Siegel, had to transport the device to a testing center at Texas A&M University, 875 miles away.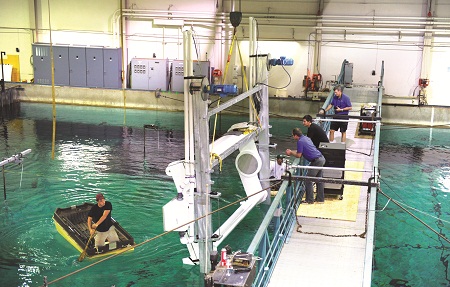 A grant from the National Science Foundation in 2008 is what got the researchers started on the device. To get the funding to further develop the technology, the group formed the Atargis Energy Corporation. With the company and funding, the  team built parts of the current wave energy converter in Siegel's garage and tested components in a swimming pool.
After the most recent tests of the technology, which showed some infrastructure and leaking problems, members of Atargis went to England for a wave energy conference. After the conference, the team returns to Colorado to analyze the data they've obtained, determine the long-term fixes for the waterproofing issues and prepare for the next test.
Siegel's team is not the first to try to conquer the engineering difficulties of harnessing energy from ocean waves. To date, survivability and efficiency have prevented other approaches to wave energy technology from being successful.