The Obama administration is working to speed wind-power development off the Atlantic coast with its "Smart from the Start" process, but the offshore effort extends beyond bureaucratic greasing, as well. This month, for instance, the U.S. Department of Energy (DOE) said it intends to dole out $43 million over the next five years on the R&D front.
The DOE asserted the planned awards – to 41 projects in 20 states – would yield "wind turbine design tools and hardware, improve information about U.S. offshore wind resources, and accelerate the deployment of offshore wind by reducing market barriers such as supply chain development, transmission, and infrastructure."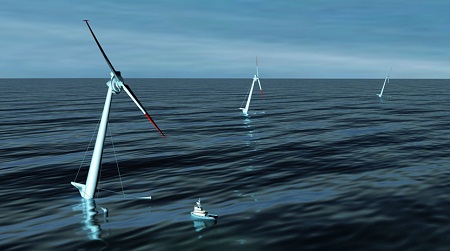 But there is a catch here: "Funding," the DOE said, "is subject to Congressional appropriations." Given the deficit fixation in Washington, that caveat could spell trouble for recipients who have big plans for the money.
For instance, Nautica Windpower of Olmstead Falls is set to get $500,000 to do engineering analysis and design confirmation for its Advanced Floating Turbine (AFT). This is a fascinating idea, as Nautica describes it: "Rather than complete rigidity, this compliant design moves much like a palm tree can.  It also weighs less than one fourth of alternate designs based on floating oil platforms.  Reduced weight cascades directly into reduced costs throughout the system not only for materials and manufacturing, but also for deployment and maintenance.  Also, no special vessels, ports, or large cranes are required, further reducing costs."
Nautica says a further advantage of its concept is that it could function "out of sight from shorelines, producing in water depths out of reach for current technologies." The company hopes to bring the AFT to market within five years.