Completion of the Ormonde Offshore Wind Farm off northwest England this week marks the installation of what are said to be world's largest offshore wind turbines. The power plant, located off Barrow-in-Furness in the Irish Sea, represents the first commercial and largest deployment of Scotland's Burntisland Fabrications' steel lattice "quadruped" foundation, and REpower's 5M turbine. The 5M has a rotor diameter of a staggering 126 meters, tying it with REpower's even more powerful 6M as the biggest in the company's portfolio.
Construction on the project began in 2010 with the installation of 31 steel lattice jacket foundations. The components for the 30 5-megawatt (MW) wind turbines were manufactured in Germany and shipped in sections (rotor, nacelle and tower) to Belfast. From there, the turbines were transported to their foundations on the A2Sea installation vessel the SeaJack, where they were installed using a crane. Depending on the weather, each turbine took as little as 12 hours to install. Turbine installation began on in late March and took a little over four months to complete. The 31st foundation supports the wind farm's substation, located 2,800 meters from shore.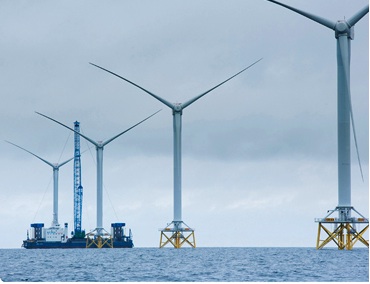 The project was developed by Vattenfall, which operates 686MW of offshore wind capacity around Europe, including the world's largest wind farm: the Thanet Wind Farm off the coast of the Thanet district in Kent, England. The company also operates 526MW of onshore wind generation facilities across Europe.
Vattenfall expects to commission the Ormonde Offshore Wind Farm and begin producing electricity later this summer. The 150-MW plant will produce enough electricity to power over 100,000 homes. Offshore wind development is being heavily relied upon to help the United Kingdom meet its goal of generating 15 percent of the country's electricity from renewable resources by 2015.