The Rolling Hills Wind Project in southwest Iowa that will add 443.9 megawatts of renewable energy onto the grid is on track to finish by the end of this year. The project, which covers Adair, Adams and Cass Counties, is a joint partnership between MidAmerican Energy Company, Mortenson Construction and Siemens Energy.
Siemens is supplying 193 of the massive turbines, of which one blade weighs 12 tons and spans half the length of a football field. Each turbine can produce up to 2.3 MW of energy. The company is a strong player in the energy products sector, with reported new orders accounting for EUR 30.1 billion in 2010.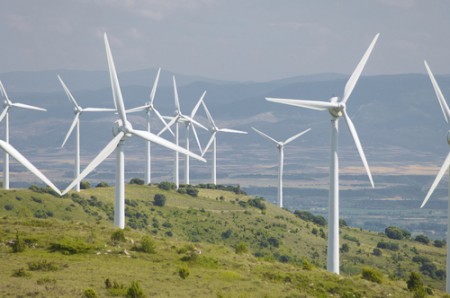 Mortenson Construction is installing the turbines and more than 139 miles of underground wiring to support the infrastructure. It looks to have become quite specialized in building these large clean energy operations, having constructed more than 100 wind projects in the US and Canada.
Rolling Hills is one of three MidAmerican Energy wind projects it's currently working on in Iowa. Additional wind turbines are going up in Calhoun, Marshall and Pocahontas counties. When all three of the projects are completed, a total of 258 wind turbines will be added to the local landscape, providing enough renewable energy at capacity to power 190,000 homes. MidAmerican Energy is Iowa's largest energy company and currently supplies power electricity to 729,000 customers in Iowa, Illinois, South Dakota and Nebraska.