We know Iberdrola Renewables well in our hometown of Portland – the global energy provider monitors and controls its U.S. wind-power plants from offices here in the Rose City. But with its roots in Spain, Iberdrola is even bigger in Europe. In fact, just this month the company announced it had reached 13,000 megawatts of installed capacity, with 8,000 MW of that coming in Europe.
Iberdrola said the opening of a plant in Cyprus brought its roster of European outposts to 10. Spain, not surprisingly, is where the company is most active, with 5,840 MW of installed capacity, followed by the United Kingdom (978 MW), France (293 MW), Greece (257 MW), Poland (184 MW), Hungary (158 MW), Italy (98 MW), Portugal (92 MW), Germany (63 MW) and Cyprus (20 MW).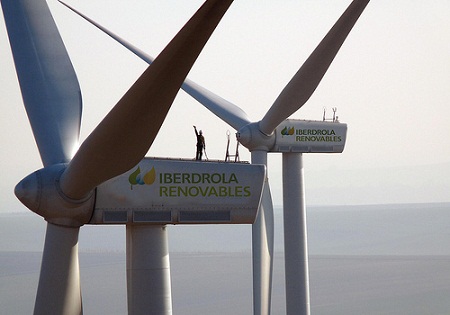 While 13,000 MW is a lot of juice – Iberdrola said it's "enough to supply nearly four million Europeans and prevent the emission of around 14 million tonnes of CO2″ – the company has plans to dramatically build on that number, and not just with wind.
"Iberdrola's pipeline of renewable projects in Europe, the largest in the industry (35,000 MW), includes other technologies, such as offshore wind, wave and tidal energy," the company said. "Noteworthy is the company's commitment to offshore wind, in which it has a pipeline of over 10,000 MW of projects in Europe. These operations are managed from Glasgow, headquarters of the Scottish Power Renewables subsidiary."