U.S. Coast Guard facilities in Puerto Rico will be getting an energy makeover from Schneider Electric under a $50 million contact, the company announced. The big item in the deal is 2.89 megawatts of photovoltaic panels, but the project is also looking to improve the Coast Guard's energy efficiency at aging facilities on the Caribbean island.
Schneider said "pilot projects tested the abilities of cool roof technologies to achieve multiple goals, with better than expected results" for the Coast Guard in Puerto Rico. Such measures "included insulation, reflectivity and improved drainage, with energy and operational savings offsetting the costs."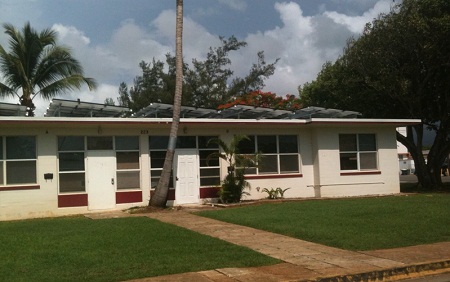 Schneider said the project will include work on 960,000 square feet of Coast Guard facilities, including Rio Bayamon housing, Air Station Borinquen and Air Station Borinquen. It will build 300 solar photovoltaic systems guaranteed to produce at least 4 million kilowatt-hours per year. That, combined with the new cool roofs, "will reduce the annual cooling load of the buildings by 3.9 billion British thermal units" and ultimately result in the Coast Guard cutting its utility purchased electricity by 40 percent.
Good for the Coast – and good for Puerto Rico, too, the Coast Guard noted.
"Reducing the Coast Guard's energy consumption and developing renewable energy solutions in Puerto Rico not only helps the Coast Guard meet federal mandates, reduce green-house gas emissions and stabilize energy costs," said Capt. John Hickey, commanding officer of Coast Guard Shore Maintenance Command in Seattle, "but it also can help create green collar jobs in Puerto Rico. This project will have a significant impact on the industry there."