For the military, portable renewable power is good – we've seen the Marines touting its benefits – but man portable is even better. We're talking power-management and power-production gear that a lone soldier can tote, and it's what the U.S. Army is getting from SkyBuilt Power, the Virginia-based manufacturer announced.
The two products the Army is buying are the SkyCase and the SkyPAK, which work together. The SkyCase is the power storage and management module, all contained in a "weatherproof, crushproof and dustproof" case than can be wheeled around like a traveler's luggage. (And, in fact, SkyBuilt says it's airport checkable.)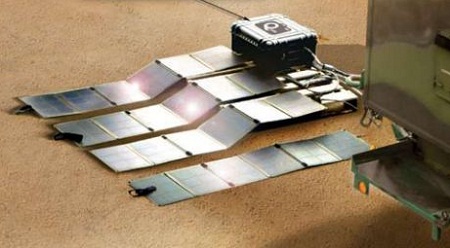 The SkyCase includes "one or more lithium-ion or other batteries for system power storage and backup," SkyBuilt says. The battery "is equipped with sophisticated power management and safety features, including graceful degradation, and short circuit/overload protection." An LCD read-out panel on the case's exterior of the lid provides information about status of the battery system during charging and discharging.
Working in tandem with the SkyCase are the SkyPAK Portable Array Kits. These fold-out crystalline solar arrays are said to be at least twice as powerful as a traditional solar blanket, and just as importantly, have an accordion design that makes them rapidly deployable.
The whole idea here is to replace traditional power sources like diesel generators with solar power, or wind power. No need to transport fuel, fewer maintenance issues – these portable devices are gee-whiz cool, but they could also be lifesavers on the battlefield.
EarthTechling is launching a weekly green deals service in Fall 2011 called Green Earthling Deals.  Sign up for the weekly email by Wednesday, August 17th and you'll be entered to win a 1st Step Weather Station from Urban Green Energy!