NASA has long been about going out into space to advance science, but their just-released iPad app aims to bring science down to Earth. Software and media specialists at the agency's Goddard Space Flight Center in Greenbelt, Md., worked together to create the NASA Visualization Explorer — a free app that allows users to easily interact with extraordinary images, video and information about NASA's latest Earth science research.
The app's feature set includes a collection of the space agency's high-resolution movies and stills, most of which are generated from real satellite data which is sent to NASA's Scientific Visualization Studio and transformed into stunningly beautiful portraits of our planet. The iPad app explores various topics such as climate change and Earth's dynamic systems, as well as the plant life both on land and in oceans.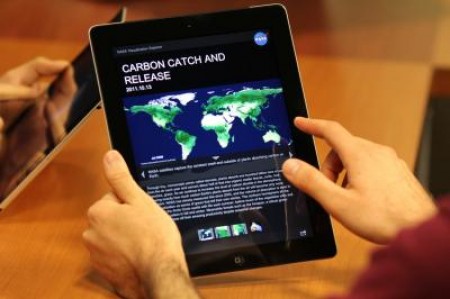 Other features of the app, which is available for free from iTunes, include short narratives explaining the images, two new science features per week, interviews with scientists as well as imagery from supercomputer modeling efforts. The app includes social networking interfaces, including links to Facebook and Twitter, for easy linking and sharing.
The Visualization Explorer is not NASA's first foray into the world of apps, androids, iPads and iPhones. The agency's website lists a fine crop of science-related apps focused upon the Hubble Space Telescope,  the Aquarius Satellite mission, Space Weather, the Lunar Electric Rover Simulator and others.
EarthTechling is launching a weekly green deals service in fall 2011 called Green Earthling Deals. Sign up for the weekly email by Wednesday, August 17, and you'll be entered to win a 1st Step Weather Station from Urban Green Energy!