The Gillard Labor government in Australia has released some initial plans for a high speed rail network that would run across a large portion of the country's populated eastern coast, running from Brisbane to Melbourne, and through Sydney.
According to the study, the high-speed rail project could cost between $61 billion to $108 billion (Australian) for the installation of almost 1,000 miles of new track that can accommodate the proposed trains traveling at speeds up to 220 mile per hour.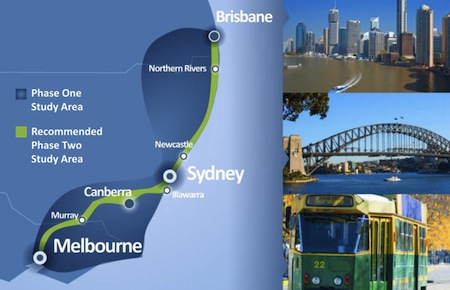 The suggested route for the new high speed trains in Australia could offer trips between Sydney and Brisbane in around three hours, much faster than the nearly 11 hours it can take traveling by car, and for under $200 per ticket. The government report also claims that the project could carry up to 54 million passengers annually by 2036.
Like the United States, Australia seems to be a bit behind in rail programs when compared to other countries; the announcement specifically called out programs in China. We've noted that rail has been progressing in France, but that at least one conservative study claims high speed trains are too costly in the United Kingdom.