It's been a good week for renewable energy in the country, with wind farms and solar projects being constructed, getting approval and being opened. Read on for news from around the US in this week's installment of the Green Tech Regional Report to learn about the renewable energy projects that might be coming to a location near you, as well as some exciting news about a new development in electric vehicles.
In Ohio, the proposed Black Fork Wind Project between Crawford and Richland Counties is slowly becoming reality. The project manager for Element Power's proposed wind farm has been meeting with the Ohio Power Siting Board to discuss the specifics of the construction. After several revisions, the wind farm is now proposed to have 91 turbines generating 200 megawatts of power. The project will face a public hearing in October, and still needs a contract with a power company.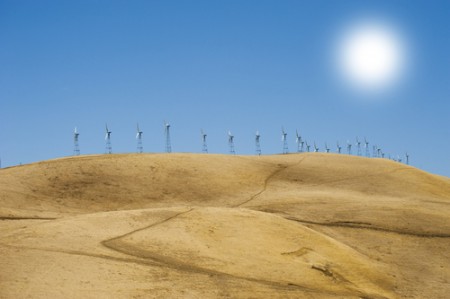 Wind farms seem to be popping up everywhere–In Illinois, construction of another wind farm is under way, and it might cause some traffic, as parts will be being trucked in. The wind farm will be operated by E.On Climate & Renewables, and will feature 94 turbines in total. In northern New York, a ribbon-cutting ceremony is scheduled to dedicate a small wind project that is expected to provide local farmers with half of their power. In Willacy County, California, plans for a 30,000-acre wind farm have been announced by Duke Energy. The Los Vientos project will generate 200 megawatts of power, enough to power 60,000 homes. Construction is slated to begin later this year and is expected to be fully operational by December of 2012.

Sure electric cars are clean, but they could be cleaner. That's the idea behind a new incentive by Ford. Ford partnered with Silicon Valley solar provider SunPower to provide buyers of the new Ford Focus Electric with a 2.5-kilowatt rooftop solar panel at a discounted price. The panels would be used to provide battery power to the car in place of conventional electricity. It would be enough to completely power a car that travels 1,000 miles per month.
A 570-megawatt hybrid natural gas-solar thermal plant was given the go-ahead with a 4-0 vote for construction by the California Energy Commission. The solar aspect of the plant will cut down the natural gas used by about 10% during peak daylight hours. The project, however, still needs to find a developer and a power purchase agreement before construction can begin.
The US Department of the Interior approved the Desert Sunlight Solar Farm after much review. This 550-megawatt solar farm will be built in the desert east of Palm Springs, California. Construction is expected to create over 630 jobs and generate $27 million in sales and property taxes.
The Brownstone Township in Michigan is installing solar panels on its public buildings, including Township Hall and the police station, and installations are planned for the community center and the fire station as well. Besides saving the township money, the public placement of the panels allows the public to see a working example of renewable energy.
Similarly, in Palo Alto, CA, a program to install solar panels on the roofs of local businesses in an effort to boost green energy use was approved. The solar panels would not power the businesses themselves, but the power would be sold to the city in a program known as a feed-in tariff. Interestingly, the largest source of debate is the term "feed-in tariff," so discussion is underway to come up with another name. Palo Alto had originally hoped to have about 31% of its power from renewable sources by 2015, but officials are hoping that this program will push that number to 33%.