Oodles of new clean, renewable wind energy will soon be making its way onto the grid in Ontario, Canada. Ontario Power Authority (OPA) said it signed agreements with Pattern Energy Group and Samsung Renewable Energy to purchase power from four wind-power plants in the province with a total generating capacity of 870 megawatts (MW). Backers say the projects will generate enough energy to power more than 300,000 homes.
Construction is underway on two of the projects – South Kent Wind, a 270-MW project in Chatham-Kent, Ontario, and the Grand Renewable Energy Park in Haldimand County, Ontario). The companies have also signed agreements to acquire and develop two other projects with capacity totaling 450 MW.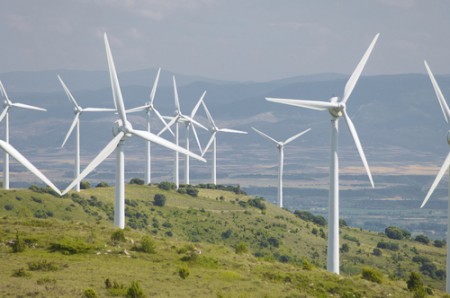 The burgeoning interest in wind power in the province is a direct result of the province's Green Energy Act and Samsung's Green Energy Investment Agreement with the government of Ontario. Under this agreement, Samsung and its partners aim to create 1,440 new jobs in renewable energy manufacturing and installation, and develop 2,500 MW of renewable energy capacity using Ontario-made components. To accomplish this, the company and its partners have committed $7 billion in private sector investment to build four manufacturing facilities in Ontario.
Pattern Energy Group, a U.S.-based wind energy developer will be leading the permitting, construction and operation phases of the projects. The company has developed, financed, and placed into operation over 2,500 MW of wind energy resources in the U.S., Canada and Latin America.
EarthTechling is launching a weekly green deals service in fall 2011 called Green Earthling Deals. Sign up for the weekly email by Wednesday, August 17, and you'll be entered to win a 1st Step Weather Station from Urban Green Energy!