Electric vehicle (EV) drivers in Britain must be celebrating. It won't be long before they'll be able to do cross-country road trips without worrying about finding a place to charge their vehicle or paying high prices for their power.
The green-energy company Ecotricity is building Britain's first "electric highway," which will run both north-south and east-west across the island, providing free charges to registered EV drivers along the way. The first station was opened in July, a dozen will be installed by September and the entire network of 27 charging stations should be in place within 18 months, the company said.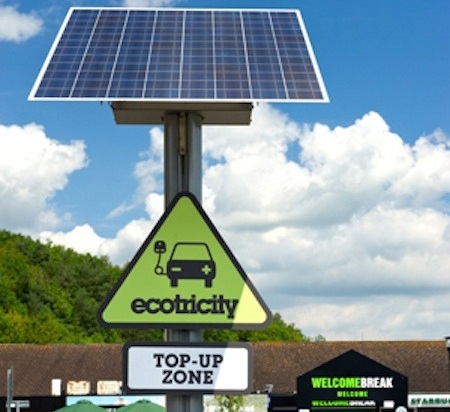 Because it produces green energy, Ecotricity is able to say the stations are powered by its solar and wind power plants, although it noted just one station – hooked in with the company's windmill next to the M4 motorway in Reading – that was being powered directly from a renewable source.
The charging posts are going in at existing Welcome Break rest stops. At the stations, EV drivers with an Ecotricity swipe card can get a "top-up" in about 20 minutes or a full charge in 2 hours, using the rapid recharge option. Drivers staying in the area also have the option of using a slower recharging system so their vehicles can charge overnight.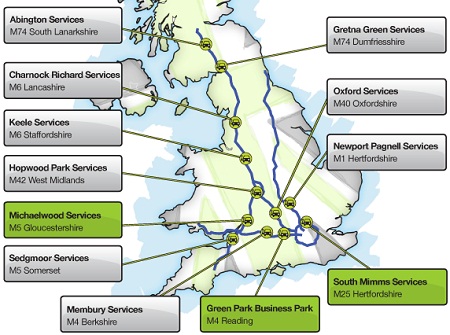 Ecotricity is hoping its far-flung charging stations will help break down the logistical barriers faced by EV drivers. "Until now, charging posts have all been in city centres like London, but this is where you need them the least," Ecotricity founder Dale Vince said. "Statistics show that it's not in towns and cities where electric cars need to recharge, but on longer journeys between cities – and that means motorways."
Incidentally, you might recall Ecotricity as the company that last year introduced an electric sports car, called the Nemesis, billed as faster than a V12 Ferrari and capable of doing zero to 100 mph in 8.5 seconds and hitting a top speed of 170 mph.