There is very little love in Alexandria, Va., for the Potomac River Generating Station. The coal-fired electricity plant, in operation since the 1930s, is dirty, blocks access to the Potomac River and is no longer needed to meet the energy needs of the area.
Recently, the American Clean Skies Foundation, a Washington, D.C., nonprofit, released a 10-year,  $450 million plan for retiring the coal plant and transforming the 25-acre site into an environmentally friendly mixed-use community. The plan, dubbed "Potomac River Green," features 89,600 square feet of office space and 114,500 square feet of retail and restaurants, as well as 467 multifamily and 96 townhouse units. There will also be a 125-room boutique hotel as well as an energy museum and a "Clean Energy Enterprise" center to incubate alternative energy and new technology businesses.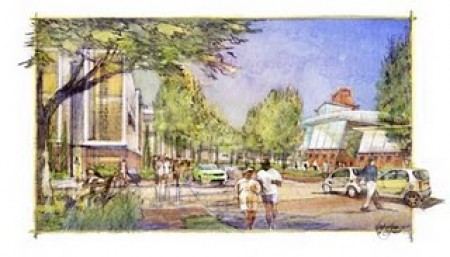 Since the coal plant effectively blocked access to the waterfront, the new plan will emphasize new recreation and open spaces. An eco trail network will tie Daingerfield Island, a nearby federal park, into the Alexandria waterfront and enhanced access to water taxis and mass transit will facilitate public access to the rebuilt site.
The plant, owned and operated by Houston-based GenOn Energy using land leased from Pepco, lacks critical emission controls and operates at 20 percent capacity. In 2010, the plant used over 400,000 tons of coal and emitted more than 1.1 million tons of CO2, as well as 1,145 tons of NOx and 1,400 tons of SO2 which both contribute to ozone pollution. Backers estimate the plan will create more than 2,000 jobs.