Move over Chevy Volt – there's a new green car coming to the GM stable. Cadillac, a luxury brand under the GM banner, has announced plans to move forward with a concept the automaker is calling an electric car, although, in reality, the new vehicle is more like a plug-in hybrid.
Called the ELR, the new car was originally teased to the public as the Converj and seems to have elements of another Cadillac urban luxury vehicle that we saw late last year. We've seen other manufacturers change the names of cars in a similar fashion, most notably when Mitsubishi decided to rename its i-MiEV to the "i" as the vehicle comes to markets in the United States.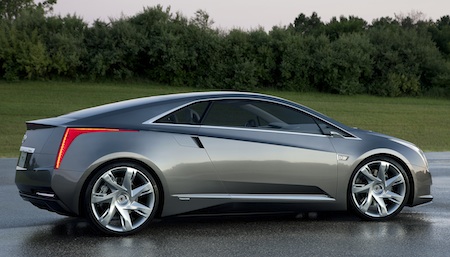 If specifications are the same as the original Converj design, then the new Cadillac ELR will be primarily propelled by an all-electric drive unit powered by a T-shaped 16 kilowatt-hour lithium-ion battery system that would give the car a range of almost 40 miles before the four-cylinder gasoline-engine kicks over to act as a generator. This would add what Cadillac says extra "driving for hundreds of additional miles."
TechCrunch also notes the ELR is built upon the Voltec platform, which also powers GM's Chevy Volt.
A GM representative told EarthTechling that the ELR will become a production car in the near future, and that further details of the car will be released as the year progresses. We'll be sure to update readers about developments as they become available.