Portland, Ore., is known for its embrace of renewable energy – and soccer. Now a local utility, Portland General Electric (PGE), is working to get more customers on board with its green power options by offering a VIP Portland Timbers package to one lucky winner who signs up to use more green power by August 5.
That sweepstakes winner will receive four club seats for the Sept. 21 Major League Soccer game in Portland, four  pregame on-field hospitality tickets, four Timbers scarves and, yes, one autographed Timbers team jersey.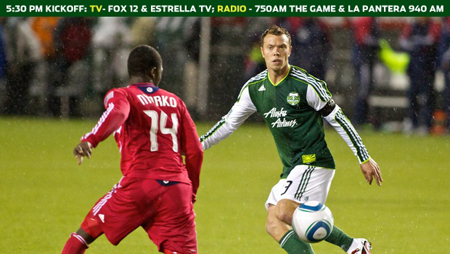 In order to qualify, customers in PGE's service area must sign up for one of two renewable energy options, Green Source or Clean Wind. By selecting Green Source, customers add around $9 to their monthly electric bill in return for the guarantee that all the energy used by their household will come from green sources in Western states. (In 2010, that mix comprised 44 percent new low-impact hydro; 35 percent new wind; 14 percent new biomass, or wood waste; and 7 percent new geothermal energy.) Clean Wind can be purchased for $3.50 per month per unit; each unit purchased ensures that 200 kilowatt hours of a household's total electricity usage will be derived exclusively from wind.
PGE customers signing on for renewable energy also have the option to support restoration of local fish habitat through The Nature Conservancy for an additional $2.50 per month. The official rules of the sweepstakes are available online [PDF].