A race appears to be shaping up to be build the first U.S. offshore wind power plant. We recently reported on Deepwater Wind's claim that a courtroom victory will pave the way for it to install the nation's first such plant, in the waters off Rhode Island's Block Island. But now the management firm AECOM is saying the Fishermen's Atlantic City Windfarm will be "the first offshore windfarm project to be built in North America."
AECOM made the claim while announcing it had struck a deal with Fishermen's Energy to take on management of the Atlantic City project. AECOM said the plan is to build a six-turbine demonstration plant 2.8 miles off the coast of Atlantic City with the capacity to produce 25 megwatts (MW) of energy. That's enough to power 10,000 homes in New Jersey. Over the course of construction, the plant will create more than 200 construction jobs and will act as a prototype for a larger utility-scale wind farm, AECOM said.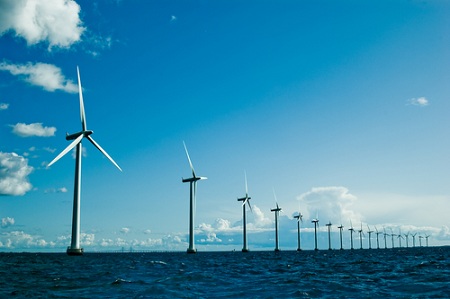 What AECOM didn't say was exactly when the project would be built. Deepwater said it hoped to begin construction on the five-turbine Block Island demonstration project, capable of producing up to 30 MW of energy, in 2013 or 2014.
Whether it ends up first or not, AECOM said its deal with Fishermen's Energy will have it involved in the engineering, procurement, construction, commissioning and start-up of the Atlantic City plant. The company said it hoped the project would "be a catalyst for further implementation of other offshore wind energy projects currently in various stages of development in North America."