If so-called "solar highways" can get built in rainy Oregon, you would think they'd be sprouting all over the place in sunny California. And maybe they will be, if a company called Republic Solar Highways fulfills its vision.
As reported in the Silicon Valley/San Jose Business Journal, Republic Solar Highways has formed a partnership with Caithness Energy to install solar power generating systems in the empty nooks and crannies the state owns around freeway interchanges. The company has the backing of the California Department of Transportation for the project, which is planned for seven interchanges along U.S. 101 stretching from San Jose down to Gilroy.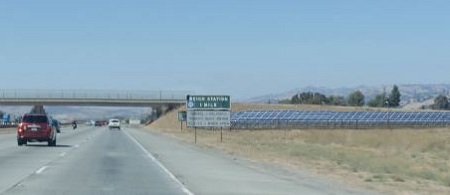 Republic said photovoltaic systems in the seven interchanges would have a total generating capacity of 15 megawatts of electricity – enough to power some 3,000 homes – which it would sell to Pacfic Gas & Electric, Northern California's giant investor-owned utility. Republic is characterizing this as a pilot project, and believes land around interchanges throughout the state – land that has "little to no commercial value," it said – could eventually add up to a significant source of renewable power.
In Oregon, by the way, a plan to expand on the demonstration solar highway project it did in 2008 looks it might finally move forward after it won approval from Clackamas County.