French automaker Renault has unveiled its latest all-electric concept vehicle called the Frendzy that is part of the company's "human life cycle" strategy for creating cars, the most recent cycle focusing on the working family. We've covered other cars in the manufacturer's circle-of-life type branding, like the DeZir, which is supposedly about love, a.k.a. spending money on something sexy.
There are other cars in the line as well, like the Captur, which is about owning a sport utility vehicle, or rather, "two people exploring the world around them," and the R-Space, which is also based around the family, but in that, "Congratulations, you own a mini-van!" kind of way; both debuted the Geneva Auto Show.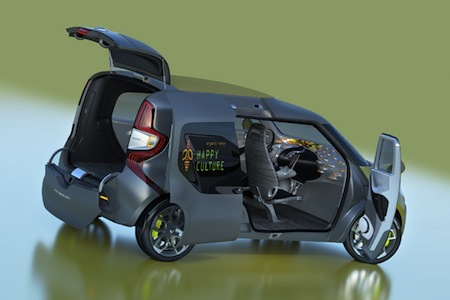 The Frendzy isn't necessarily just for families, as the electric vehicle features a sliding door to better utilize the interior space for storage, and an exterior display that can show logos or messages as seen in the image above, making it a potential business car. More and more families have both parents on the job, and with that in mind, a bench seat with access to a movable touch-screen tablet that can be loaded with games and movies is also installed.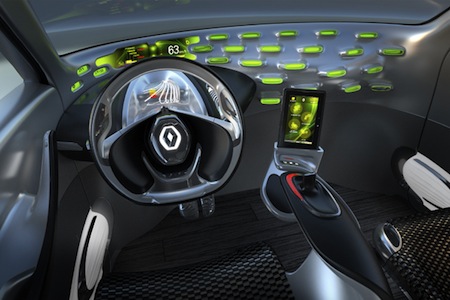 The interior of the concept is pretty stylish, the green lights, seen in the image above, can change to orange. As far as powertrain goes, Renault says the Frendzy has the same specifications at the Kangoo Z.E., which would give it a range of 100 miles, propelled by a 44 kilowatt electric motor. Renault is planning to display the vehicle at this year's Frankfurt Motor Show in September.