The U.S. market for photovoltaics (PV) is booming, industry watcher Solarbuzz reports, driven by lower prices and the drawdown of feed-in tariffs in Europe.
According to the Solarbuzz United States Deal Tracker database, the nonresidential photovoltaic project pipeline now exceeds 17 gigawatts (GW). This comprises 601 projects ranging in size from 50 kilowatts (KW) to 500 megawatts (MW) with planned installation by 2015. All told, Solarbuzz said, since the beginning of 2010 some 1,565 nonresidential PV projects have been installed, are being installed or are in the developed phase, adding up to 20.3 GW of power capacity. According to Solarbuzz, the majority of these projects in the pipeline are supplied by First Solar, SunPower and Suntech Power.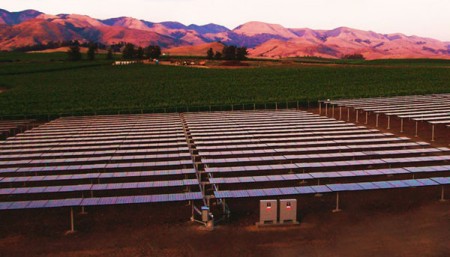 Around 40 states contribute to the PV pipeline, but California, with its 33 percent renewable portfolio standard, is far and away the leader, accounting for  62 percent of the project pipeline. Trailing California are Arizona, Nevada, New Jersey, New Mexico and Texas.
While the surge in PV is great in terms of clean energy, Solarbuzz President Craig Stevens, said not everything is hunky-dory. "With the overall U.S. market size forecast around 2 GW in 2011, there remains significant challenges for the 17 gW in the pipeline," Stevens said. "Most notably, these include aligning project structure with financing sources, overcoming regulatory challenges and taking full advantage of recent price movements in the market to procure the best mix of PV system components."