French automobile manufacturer Peugeot has unveiled its new diesel hybrid called the 508 RXH, which builds on the technology of the 3008 Hybrid4 model that we reported on early in 2010.
Equipped with a 2.0 HDi FAP drive train, first found in the 3008 model, and which the automaker claims is the first fully diesel electric hybrid, the 508 RXH sports a 147 kilowatt, 200 bhp motor with four-wheel drive and a maximum torque of 450 Nm, which equates to roughly 330 lb/ft for our American readers.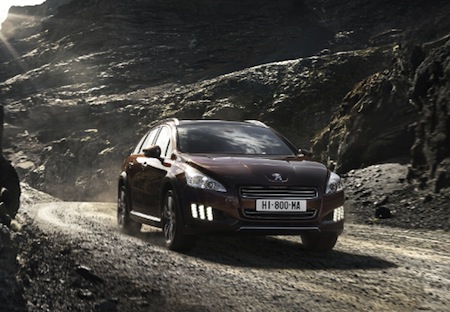 Peugeot says the new hybrid vehicle has a fuel consumption that approximately converts to 60 miles per gallon – not bad at all for a new car in the green market – and has an all-electric mode which produces no emissions. So far, however, the company has yet to reveal just how far the 508 RXH can travel in that particular mode.
The vehicle comes with some luxury features in addition to its low-impact design, including LED lights, keyless entry, 18″ wheels, a glass roof, and a satellite navigation unit. Unfortunately, not much else about the model has been released to the public, as the car is set to make its debut at the Frankfurt International Motor Show in Germany this September. Peugeot plans to have the vehicle available for sale sometime in 2012, but a final price is not yet available.