Worldwide investment in green energy soared 32 percent in 2010, according to a new United Nations report, and not surprisingly China led the way. The Asian economic behemoth saw $48.9 billion in new investment in renewables last year, nearly a quarter of the worldwide total of $211 billion.
Big wind power projects were the growth driver in China, the U.N. Environment Programme reported, accounting for nearly 80 percent of the country's renewable investment. By contrast, in Europe investment in similar large-scale renewable energy projects and companies fell in 2010 – but that decline was more than offset by huge increases in small-scale projects, especially rooftop solar as the price of photovoltaic modules continued to decline. Germany far outpaced any other country in investments in small distributed capacity, totaling $34 billion, a whopping 132 increase over 2009.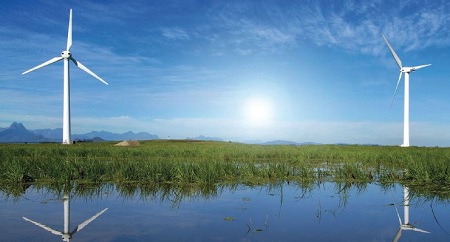 As for the United States, it ranked second to China in utility-scale investment and third overall, behind China and Germany, with $29.6 billion flowing into green energy in 2010. That represented a solid 56 percent increase over 2009.
Also of note: For the first time, developing countries outpaced developed ones in large-scale renewable investment. China's performance had a lot to do with that, but other developing countries were hardly standing still: So-called "financial new investment" grew by 29 percent in South and Central America and by 104 percent in the Middle East and Africa.