GM, while busy in the United States with its Volt green car program, certainly isn't missing up on chances to introduce electric vehicles to other parts of the world. One of the latest cases to this point is in India, where it recently unveiled an electric car version of its Chevrolet Beat.
The Beat is regularly a front drive, three door hatchback design focused upon the India market. The EV configuration retains the look, but is driven by a 300 cell lithium-ion battery with a total energy capacity of approximately 20 kWh. The range offered by this EV is said to be at least 130 km under normal driving conditions, with charge times of less than eight hours using a 240V outlet.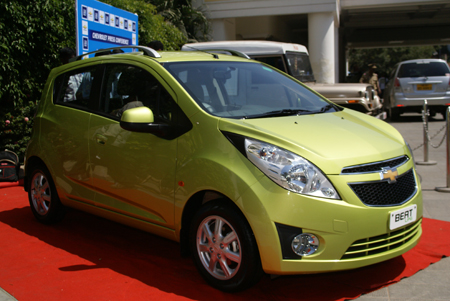 GM plans to use the demo EV Beat vehicle it produced to showcase the effectiveness of battery electric vehicle technology in India. The company noted that power from this vehicle's battery is transferred to the drive wheels through a single speed drive unit and an electric motor producing approximately 45kW of power, which for driving in densely populated Indian cities is likely more than enough to get the job done.
The Beat, while one of the first EVs ever showcased for GM's India division, is certainly not the first alternative fuel vehicle ever used there. GM India is already offering a range of alternate fuel vehicles including Chevrolet Beat LPG, Chevrolet Spark LPG and Chevrolet Aveo CNG to its customers.
Curious about other electric vehicles? Check our story archive on this subject.