The Solar Energy Industries Association (SEIA) has just released its "U.S. Solar Market Insight" report for the first quarter of 2011 and, based on the numbers we're seeing, the state of  solar-generated power in the nation has seen some strong growth over the last few months and is showing signs of even more aggressive growth in the near term.
According to an overview of the report provided by SEIA, the solar industry continues to be one of the fastest growing sectors of the economy. In 2009, U.S. solar market installations were valued at $3.6 billion, but that number grew 67% to reach $6 billion by the end of 2010. That growth came courtesy of  the 956 megawatts worth of solar power installations in 2010, which put the nation's cumulative installed solar generation capacity at 2.6 gigawatts-enough, the report says, to power over half a million households.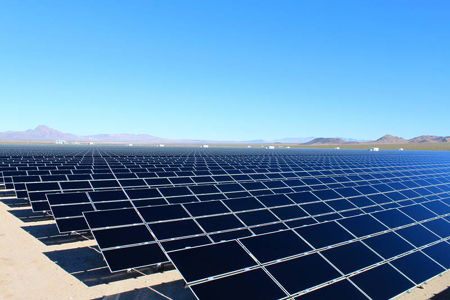 So far this year, the U.S. has seen 252 megawatts of grid-connected solar photovoltaic (PV) installations- a 66 percent growth over the same numbers from this period last year. While residential, non-residential and utility installations all grew, it was non-residential installations that showed the strongest growth.
The bulk of PV installations took place in the nation's top seven performing states, accounting for 88% of all PV installs. While last year's top 10 states included (in order) California, New Jersey, Nevada, Arizona, Colorado, Pennsylvania, New Mexico, Florida, North Carolina and Texas, for the first quarter of this year the top five include California, New Jersey, Arizona, Pennsylvania and Colorado.
Concentrating solar power (CSP) is also looking strong going into the future. SEIA made note of the fact that the 500 megawatt Blythe solar facility secured a $2.1 billion DOE loan guarantee, and pointed out that there is now over 1,100 megawatts of CSP and CPV (concentrated solar photovoltaic) projects currently under construction. Of course, with more big funding pending for two more large California CSP projects looming on the horizon, that last figure could quickly escalate.
EarthTechling Reader Appreciation Week is June 13-17.  We're giving away awesome green gifts to Facebook fans and newsletter subscribers.  Participate in the green goodness by joining our newsletter and Facebook communities.