The U.S. Department of Defense no doubt, like other armed forces in the world, consumes vast amounts of fossil fuels in its operations. Thankfully our military and those of other nations are moving towards more renewable sources of energy to cut down their costs and reduce their carbon footprint. Pike Research believes that global military spending on renewable energy will increase from the $1.8 billion in 2010 to $26.8 billion by 2030, with likely a good portion of that being right here in the U.S.
There are many renewable energy initiatives being put forth by the DoD. The army has mandated a minimum of 25 percent renewable energy by 2025 and reduction of energy consumption by 30 percent by 2015. Many plans have been forth to achieve these goals, ranging from solar installations at various military facilities to greater use of biofuels in military aircraft and energy efficiency upgrades of at different bases.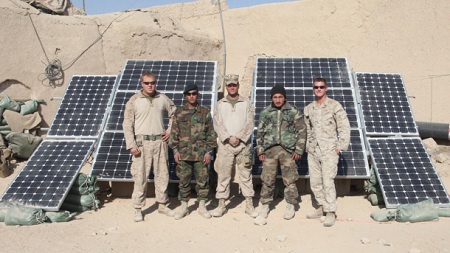 While the DoD accounts for about 80 percent of the US government's total energy annually, according to Pike Research, their energy consumption has decreased 60 percent over the past 25 years. Approximately 75 percent of that energy goes towards mobility (primary liquid fuels consumption) during wartime, with 25 percent spent on facilities.  During peacetime, the energy is dispersed more evenly among the two categories.
Naturally, the majority of the renewable energy spending will go towards mobility by pushing forward synth and biofuels for military vehicles and improved battery/fuel cells for portable soldier power. As far as the facilities go, the DoD has invested in over 450 renewable energy initiatives, with solar leading the way followed by wind, geothermal, hydrokinetics, fuel cells, wave energy and other projects. The DoD plans on having all facilities operating, at least partially, off the grid by 2030.The DoD also received $12.02 billion in 2009 and 2010 from the American Recovery and Reinvestment Act to fund 45 energy conservation projects in 17 states.
According to Pike Research's report, "Renewable Energy for Military Applications", should the military continue to invest in renewable energy, they will not only create a green army, but reportedly create a "green revolution" that will impact non-military sectors. The only issue, of course, is that renewable energy must be as reliable as fossil fuels and meet military standards.