GE and Howcast Media have partnered on an interesting social experiment in getting people to promote the green innovations being developed around the country. An offshoot of GE's ecomagination focus, the new "Tag Your Green" campaign began today.
At the heart of the Tag Your Green campaign, according to the two companies, is an interactive map tied into Facebook that lets one "display and virtually tag their green innovations." Through this geotagging process, others can browse the map to see "great green ideas from people around the country." We, of course, tagged ourselves to our Portland, Oregon headquarters.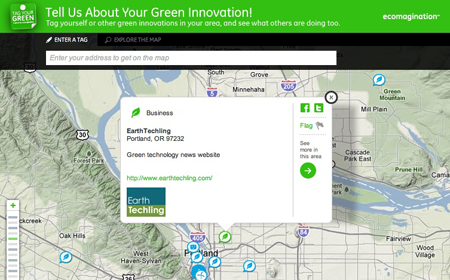 Also attached to the Tag Your Green push is a series of GE and Howcast produced and promoted "road trip" videos hosted by Youtuber Shaycarl which take viewers around the country to see mostly GE related cleantech innovations. While a little self serving, the videos are at least of interest to (1) see what GE is up to in cleantech and (2) let people learn a little more about how green technology is being developed and used in their backyards.
GE looks to really want cleantech to work, though where the motivation falls between pure concern for the environment and hope they can make a few extra bucks off green technologies produced in house is unclear. Still, cleantech will only flourish in so much as both the public and private sectors invest interest and capital in it, and GE seems to be wanting to play a major role in that.