ScottishPower Renewables (SPR), part of Iberdrola, is the first developer in the UK to reach 1 GW of wind power capacity. SPR currently owns 24 functional wind farms consisting of 770 turbines. They finally achieved this goal with the opening recently of the Arecleoch (120 MW) and Mark Hill (56 MW) wind farms in South Ayrshire.
SPR invested more than £1bn in wind energy in the last decade and has employed around 2,000 people. The 1 GW capacity is capable of powering 600,000 homes. SPR said it now accounts for 1/5 of the on-shore wind power developments and includes the single largest project in Europe, the 322MW Whitelee Windfarm near Glasgow. Along with SPR, Iberdrola is contributing £3 billion in renewable energy investments with 70 percent of the investment going to Scotland.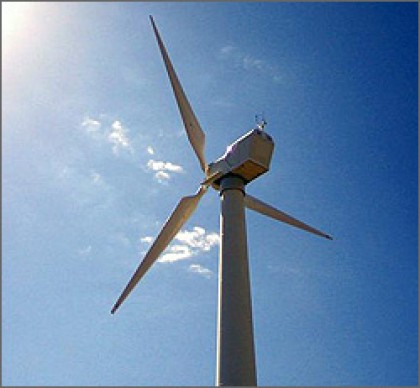 According to Scottish Minister Alex Salmond there are "some 7 GW of renewables capacity currently installed, under construction or consented around Scotland." These new projects will allow this part of the United Kingdom to exceed its 31 percent renewable energy mark for 2011 and reportedly meet its goal of 100 percent by 2020.
Aside from wind turbines, SPR is also been busy developing offshore clean energy sources. This includes recent word of plans to install ten 1 MW tidal turbines in The Sound of Islay sometime after 2013, but perhaps not until 2015. Once commercially operational, SPR's ten turbines will produce power for various onshore needs.