Ferris wheels have always been the favored ride for many fair goers due to its relaxed nature and epic views. Pacific Park offers a Ferris wheel like no other: it is run off of solar energy and offers breathtaking views of the Pacific Ocean.
The Pacific Wheel is located on Santa Monica Pier in California and is actually the second go around for this clean energy attraction. The first was built in 1998 and was reportedly the world's first Ferris wheel that ran completely off of solar energy. In 2008, an all-new Pacific Wheel was built that provides 71,000 kWh of renewable energy from the sun as well as 160,000 energy efficient LEDs. On cloudy days, the wheel is run off of traditional energy sources.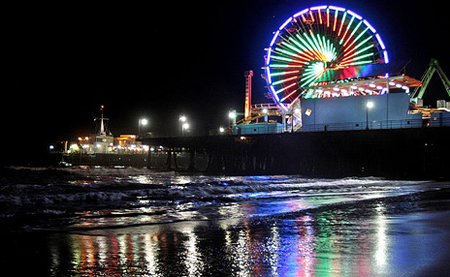 Nearly 650 photovoltaic modules are mounted on top of the park's loading area to allow the wheel to run via a fully automated process. The Ferris wheel stands at nine stories tall and not only offers a one-of-a-kind clean energy riding experience, but also an unsurpassed view of the Santa Monica Pier.
Pacific Park's Ferris wheel is said to have been built at a cost of $1.5 million and, as you can see from the picture above, is quite the sparkly item to view from nearby beaches at night.