Four Ohio counties bordering Lake Erie will soon be sharing more than just lakeside real estate. Through an cooperative revenue-sharing agreement, each of the four counties will soon get a share of a submerged land lease payment to be made by LEEDCo, a project developer that plans to build an offshore wind farm in the area.
LEEDCo, a private, non-profit group, says the windfarm's initial phase is currently planned to involve five of General Electric's (GE) 4 megawatt turbines for a combined total generation capacity of 20 megawatts.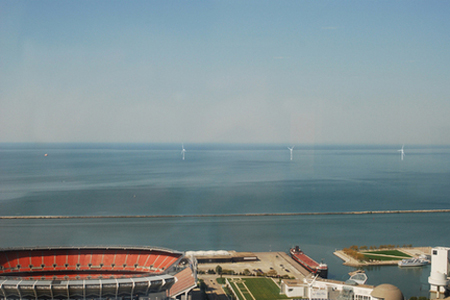 The five turbines will occupy land off the shores of Ashtabula, Cuyahoga, Lake and Lorain counties in Ohio. Once the submerged land lease is signed, LEEDCo will make annual payments to the State of Ohio that amount to about $11,000 per turbine. The State will keep about half of the approximated $55,000, turning the remainder over to the Cleveland-Cuyahoga County Port Authority. The port authority will keep about 40% of the $27,500, leaving about $16,500 to be split equally amongst the four counties.
LEEDC0 and several of the involved county commissioners hail the agreement as historic and monumental, indicating that it paves the way for similar agreements in the future, perhaps inspiring other private companies to get involved in the offshore wind project. LEEDCo's reported long term plan for the wind farm is to reach 1,000 megawatts by 2020.