Is the meltdown of the nascent home energy management market upon on? It is hard to say, but recent moves by big players in that space suggest it definitely might not be a ready for prime time venture. First, Google last week killed off its PowerMeter offering. Now, Microsoft has apparently followed suit by signaling it is shutting down Hohm.
Microsoft said in a blog post today it is turning the lights off on Hohm by May 31 of next year. It noted that, while feedback from customers and partners was good through the beta test of the offering, overall market adoption of the service was to slow for the software giant's liking. The company now plans to refocus its efforts on "on products and solutions more capable of supporting long-standing growth within this evolving market."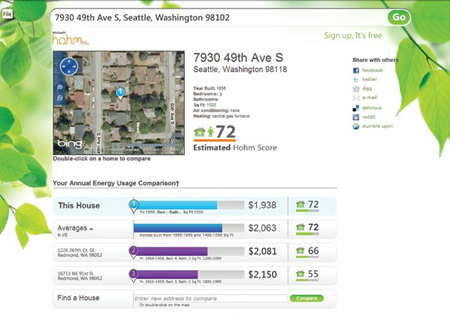 Like how Google waxed about the benefits of home energy management technologies, Microsoft noted how it still has great faith in technologies to make a cleaner tomorrow for the world around it. Of course, much of that uplifiting narrative focused upon a world driven by other Microsoft technologies.
Microsoft, like Google, updated an online FAQ to indicate what will happen when Hohm shuts down. Those making use of Microsoft's home energy management system, especially as relates to third party devices or connected utilities, should make sure to read this FAQ to see how they and their data will be impacted.
Curious about home energy management? Check out our archived coverage of this topic.