With the current hot tech toy of the moment being the iPad 2, it is no wonder there's a variety of accessories available for this Apple product. One which recently caught our green tech eye is the Marware Eco-Flip iPad 2 Case which, as the name reveals, has a tinge of green to it.
Marware's Eco-Flip iPad 2 Case, pricing for around $55, is said to be made of so-called "eco leather." What exactly is eco leather you ask? While not a perfect shade of green, eco leather is instead a little off that mark but still in the ballpark because of a self-described process that "uses fewer toxins than traditional leather tanning." It is thus similar in nature to Marware's Eco-Vue iPad 2 Case, which we covered a few months back.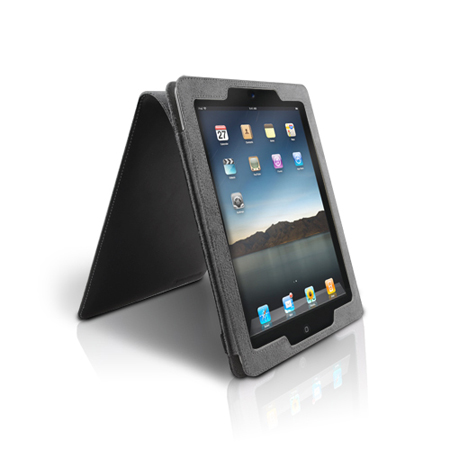 Marware says the process behind developing the case "minimizes toxic runoff into the ground and water tables. Throughout the entire process, the leather remains RoHS (Restriction of Hazardous Substances) compliant. No chlorine, no sulfuric acid, and no petroleum/chemical based dyes. This is real leather, without the environmental impact of standard tanning and dyeing processes."
Features of this iPad 2 case include a vertical stand ideal for display; a foldaway, low-angle stand for typing or display; an elastic hand strap for holding the iPad 2 while in use; and access to all buttons and ports on the Apple device without need to remove it from its holder.