Google looks to have had its highs and lows in cleantech outreach this week. The high? Putting $102 million into one of the largest wind power projects being developed in the world. The low? Announcing today it was pulling the plug on its once highly promoted PowerMeter home energy management service.
Google, which first introduced PowerMeter over two years ago, said in a blog post that efforts to scale the service basically hadn't met corporate expectations. As a result, the service is being shuttered September 16, which is the date users of PowerMeter have until to download their data via accessing the online tools and exporting their energy management history to a file.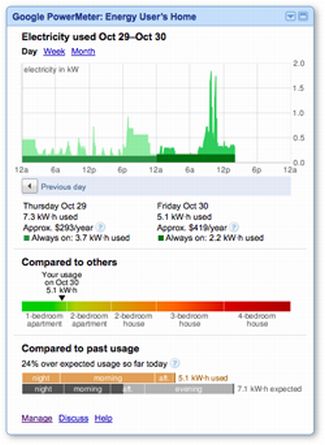 The Internet search giant, though reportedly glad to see a growing interest in consumers and utilities alike in concepts like home energy management, smart meters and the smart grid, certainly must be smarting itself to have to make this move.
PowerMeter, in the over two years it has been around, got tied into home energy management hardware with third party vendors to allow users of those devices online access to their data. Now with PowerMeter going away, what's the future of getting at your data? Likely one which will have to rely on whatever resources that third party is making available for non-Google ways to continue to track and/or get at your information.