The military is perhaps one of the largest consumers of oil and fossil fueled energy in the US. With oil prices on the rise, the military is increasingly turning to renewable sources of energy to power their bases. The most recent convert is the U.S. Air Force Academy (USAFA) in Colorado Springs.
Colorado Springs Utilities and SunPower Corp. completed the 6 MW solar power system earlier this month. The project was partly funded by the American Recovery and Reinvestment Act of 2009 (ARRA) and was done in conjunction with USAFA's own Net Zero Initiative that calls for all electricity on campus to be from on-site renewable energy resources.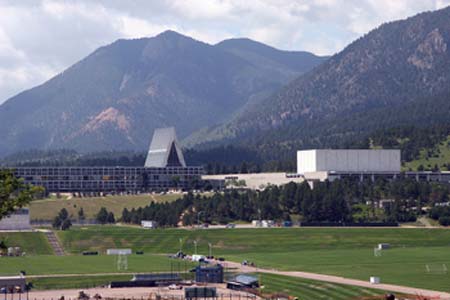 The solar power system itself uses high efficiency panels and a tracker system. The tracker follows the movement of the sun throughout the day and moves the panels accordingly for the best results on the least amount of land. The panels along with the tracker system allow for a 25 percent increase in captured sunlight over conventional panels.
SunPower has worked with federal agencies since 1999, and has more than 40 megawatts of solar power systems installed or under contract at government facilities, including systems at Nellis Air Force Base and the Washington, D.C. headquarters of the U.S. Department of Energy.