With news coming from Scotland that indicates the country is aggressively pursuing and well on its way to 100% renewable energy generation by 2020, along with reports coming in that show China to be the most renewable friendly nation in terms of investment potential, it might be easy to overlook the fact that a small country in the South Pacific is also a major contender in the clean energy race. New Zealand, as it turns out though, is boasting some pretty big renewable energy statistics.
According to a statement issued by the New Zealand government, the country is now generating 79% of its electricity from renewables. Also, since the country has significantly scaled back the use of coal fired power plants in favor of natural gas, New Zealand is claiming its electricity related emissions are the lowest they've been in 10 years.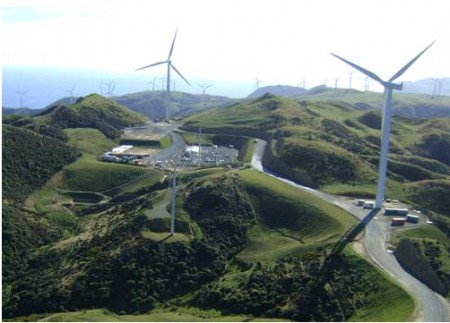 New Zealand's renewable energy stats were already looking pretty good, but in one quarter the country increased clean energy electricity production by five percent. Much of the country's high baseline renewable energy numbers come from the heavy use of hydro-generated power, but recent advances in the use of geothermal energy sources have helped boost numbers in more eco friendly formes of clean energy.
It appears wind power generation is on the rise, big time, as well. In 2005, wind accounted for just 1.5% of the county's electricity generation. In 2010 year that number grew to 3.7% and, as of now, wind power provides 4.2% of New Zealand's electricity. More wind power is on the way, too. The proposed Hauauru ma raki wind farm development on New Zealand's west coast, for example,  is the largest to be approved in the country and is expected to generate up to 504 megawatts of power from 168 turbines- about  enough renewable energy to reportedly power around 170,000 homes.
Curious to know more about clean energy? Read more about it here.