Ahh, the world of tomorrow. Flying cars and all that stuff. What about the green technology world of tomorrow? One new item proposed by aircraft manufacturer Airbus lets us consider what an aircraft cabin in the year 2050 might offer in terms of technology, both green and otherwise.
This Concept Cabin, as Airbus describes it, is being presented at the upcoming Paris Airshow "Le Bourget". It is said to envision a "whole new flying experience inspired by nature." Sounds like our kind of plane, especially when you consider this grandiose notion far removed from today's cramped air travel experience: personalized zones replace traditional cabin classes to offer tailored levels of experience.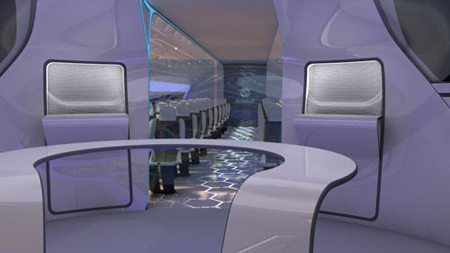 From a sustainability standpoint, flying is typically not the greenest way to travel. Throwing that out the window for the moment, especially when you consider by 2050 we could all be flying around in solar powered airplanes, let's take a look at the green and green tech inside this cabin in a nutshell. Airbus said this of the eco-factor for its idea: "the concept cabin will be 100% recyclable.  It will have self-cleaning materials made from sustainable plant fibres which reduce waste and maintenance and will harvest passenger body heat to power cabin features."
Passenger body heat to power cabin features? Given the types of technology this cabin would carry, it is certainly possible it will need all the green energy it can gather to make it work. For example, a "neural network" would let passenger and plane interface, so that it can "identify and respond to passenger needs and enables bespoke features such as morphing seats which change to your body shape." Creepy? Perhaps.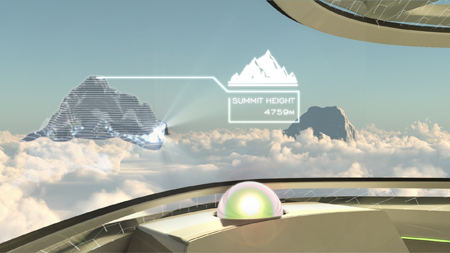 Zones around the Airbus Concept Cabin would let passengers do everything from from offering open panoramic views of the passing skies to proactively recharging one's "batteries with vitamin and antioxidant enriched air, mood lighting, aromatherapy and acupressure treatments." Yeah, that pretty much beats the free peanuts and lost luggage we think.
EarthTechling Reader Appreciation Week is June 13-17.  We're giving away awesome green gifts to Facebook fans and newsletter subscribers.  Participate in the green goodness by joining our newsletter and Facebook communities.