Renewable energy-in this case wind power-is apparently agreeing with residents of Southern Texas. According to a recent statement issued by Portland Oregon's Iberdrola Renewables, the South Texas Electric Cooperative (STEC) plans to expand and extend its existing power purchase agreement (PPA) to get at even more energy from Iberdrola's Peñascal Wind Power Project located in Kenedy County, Texas.
STEC;s existing PPA with Iberdrola, which began in May of 2009,  involves a 50 megawatt contract. That contract will be updated to include 100.8 megawatts and extended out to May 31, 2026.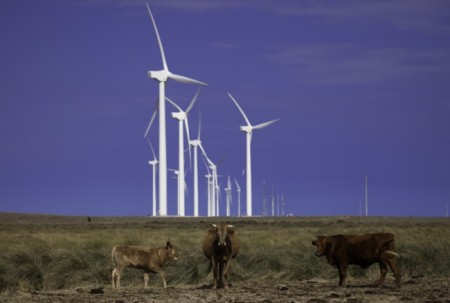 Phase 1 and Phase 2 of the  Peñascal Wind facility, located south of Baffin Bay along Texas' south coast,  are said to have an combined installed capacity of  about 404 megawatts. The facility uses 2.4 megawatt Mitsubishi wind turbines to generate its renewable energy.
One of the more interesting facts about the facility is its use of a radar system used to detect any large flocks of birds that might be headed the turbines' way. If visibility is poor, the system shuts the wind turbines down to protect the arriving foul. Other environmental concerns were reportedly made a priority as the facility was built. Iberdrola has said that it avoided seasonal wetlands and wildlife habitat areas in order to have a zero-impact on the area's wildlife.