TD Bank calls itself "America's Most Convenient Bank." Now it can call itself something else: the country's first net zero bank.
All right, it's just one bank location, in Forth Lauderdale, Florida, but still, we're impressed; net zero is a far cry from the basic energy efficiency necessary to garner Energy Star certification, for instance. A net zero building must produce as much energy as it consumes, making its operations carbon neutral.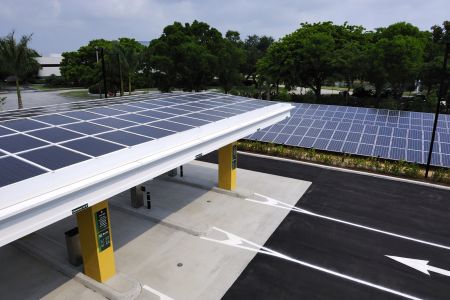 The bank location achieves this feat via its solar panels, which soak up Florida's abundant sunshine, providing for 100% of the location's electricity needs. (Solar powered banking, anyone?) It is said it will require approximately 97,000 kilowatt-hours (kWh) of electricity a year to operate, but its 400 solar panels will reportedly produce a minimum of 100,000 kWh a year on site.
The net-zero bank location was built according to TD Bank's new green-store design standards, making it almost 50%  more energy efficient than the bank location's previous design, and will be going for LEED Platinum certification.